Photo Shoot with Chad Martel

Need help with that portfolio? Here is your chance. The winner has the choice of flying to Florida, or having Chad fly to you, to have a professional photo shoot done.*

* Air fare will be paid for by Kind Industries if the winner chooses to fly to Florida. All other expenses are not included. You must be a member of Kind Industries, and live in the continental United States. Models may only enter their ID number once.

Have a nice Day! Kind Industries

Check Out the Kind Industries site and Register to win a free Photoshoot!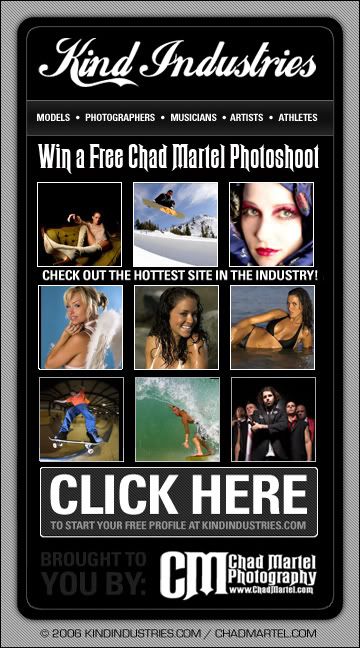 We're trying to build our friends list up again! Let me know if you'll add Kind Industries to your Friends list if we're not on it already! If you'd repost this we'd greatly appreciate it!
Check out our new site! It's just like myspace but industry specific, It's just for Artists, Models, Athletes, Photographers, and Bands ! We'd love to have you on our new site! It's free and takes a few minutes to Register! We look forward to having you on the site! If you're already using it, We've just updated the site with a tons of new features! Check it out! Have a nice Day! Kind Industries