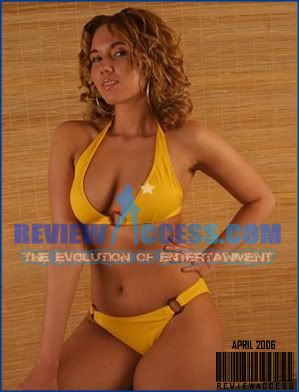 MMMMMANNN
I need to head back to Germany ( Heidelberg , Frankfurt , Nuernberg what's really good) fa sheezy!! I had a chance to sprechen ( speak in german lol) with my girl Janet Cerna , a new face coming from Nuernberg , Germany . This 5'7 cutey is part Czech and Spanish and is gettin a good buzz thanks to Myspace . She let me in on modeling scene in Europe. Here's the interview.
Ya Boy Holla$-
Do you like be called Janet, Miss J, or DAMMMNIT JANET?
Janet C.
- loll Janet
Janet C
. - Miss J sound weird
Ya Boy Holla$
- How long have you been in the modeling game and how did you start with it?
Janet C
. - Since more than a year people asked me why I don't model so I gave it a try Ya Boy Holla$ - You're in Germany right? How's the modeling scene over there far as from what you have experienced?
Janet C
. - Yes I'm still in Germany and wont be back in the states till next summer. The agencys in Germany prefer small slimmer models than the states .I n the states u can make it if you have curves on you , as a model I mean .There are still thick models down here but the majority of the models in Germany are slimmer than most.
Ya Boy Holla$
- Was it hard for you to get your foot in the door when u started?
Janet C
. -I do this for fun. I mean I still model for catalogs and all that, but I don't stress myself. It's more like a hobby to me. I did apply to agencies that didn't want to work with me, although u can't be too sensitive in the business because people will always criticize your look. It's just about the moment what people looking for, so u needs to learn not to take things personal but I'm doing well. I just enjoy what I'm doing.
Ya Boy Holla$
- Have you done any modeling in the U.S. yet?
Janet C
. - I had allot of offers I missed out since I'm in Germany, magazines,video,and t.v. shows, I got allot of offers actually through myspace.com I'm trying to get back as soon as possible. I did model for some designers who sent me their clothes, that's the only way for me to work with people right now which is pretty frustrating. I'm looking forward to come back actually, I'm trying to move over next year.
Ya Boy Holla$
- Cool, Will there be a website to go along with your beauty soon?
Janet C
. -I want to get a website when i'm back in the states .It doesn't make sense for me to get one since i'm in Germany and leaving next year anyway.
Ya Boy Holla$
- Cooley, well we're at the end of the interview, is there any words you would to say to your fans and future fans?
Janet C. -
loll Cooley
Ya Boy Holla$
- loll
Janet C
. - I want to thanks to everybody i'm just happy that people support me and I appreciate all the love. For More Janet check out
http://myspace.com/janet_cerna
http://groups.yahoo.com/group/7575
and @
http://www.reviewaccess.com
as well and look out for her Calender coming soon. Peace!